Manufacturing Industry Has Strongest Jobs Increase in Three Years
By Austen Hufford - Wall Street Journal - April 4, 2018
Hiring at private U.S. employers grew more than expected in March, according to a report, as the manufacturing industry showed the strongest increase in more than three years.
Firms across the country added 241,000 workers in March, according to payroll processor Automatic Data Processing Inc. and forecasting firm Moody's Analytics.
Economists surveyed by The Wall Street Journal had expected the addition of 200,000 jobs. "The job market is rip-roaring," said Mark Zandi, chief economist of Moody's Analytics. "The tight labor market continues to tighten." Midsized businesses added nearly half of all jobs in the month.
The job growth came from across industries, with construction, professional business services and trade, transportation and utilities leading the way. The February figure was revised up to 246,000 from 235,000. The ADP report is based on private-payroll data in addition to government data.
The ADP report comes ahead of the monthly jobs report from the U.S. Bureau of Labor Statistics on Friday. Economists expect nonfarm jobs to rise by 178,000 for March, compared with 313,000 the prior month.
---
Non-manufacturing Also Continues to Expand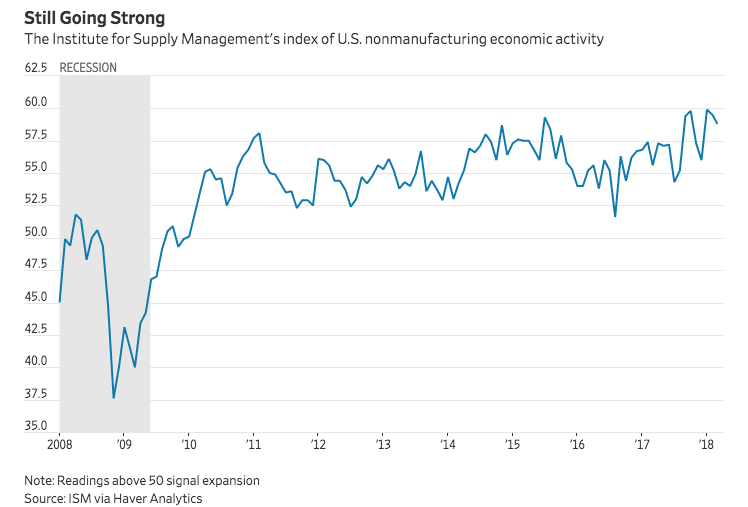 By Ben Leubsdorf- Wall Street Journal - April 4, 2018
Activity across most of the U.S. economy decelerated again in March but continued to expand at a solid pace headed into the spring.
The Institute for Supply Management on Wednesday said its nonmanufacturing index—tracking a wide range of U.S. industries such as health care, finance, construction and agriculture—fell to 58.8 in March from 59.5 in February.
Economists surveyed by The Wall Street Journal had expected a March reading of 59.0. A number above 50 indicates expansion while a figure below 50 signals contraction, and the index still signaled solid expansion at the end of the first quarter.
While the index doesn't move in lockstep with broader economic growth, "the data continue to suggest good momentum," said Jim O'Sullivan, chief U.S. economist at High Frequency Economics, in a note to clients.
U.S. economic growth has been supported in recent quarters by low unemployment, buoyant consumer and business confidence, rising incomes and stronger growth overseas.
Overall output expanded 2.6% in the fourth quarter of 2017 compared with a year earlier, according to Commerce Department figures, and forecasters expect recent tax cuts will help propel another year of healthy growth in 2018.
The prices index rose, signaling a 25th consecutive month of higher prices paid for materials and services. "We see that mostly attributed to fuel prices at the pump," said Anthony Nieves, who oversees the ISM survey.
Some 15 industries tracked by the latest report reported growth in March, led by mining. Two sectors reported contraction last month: educational services and information. One industry—arts, entertainment and recreation—reported no change on the month.